Luxury box 36 pralines (mix) 540 Grs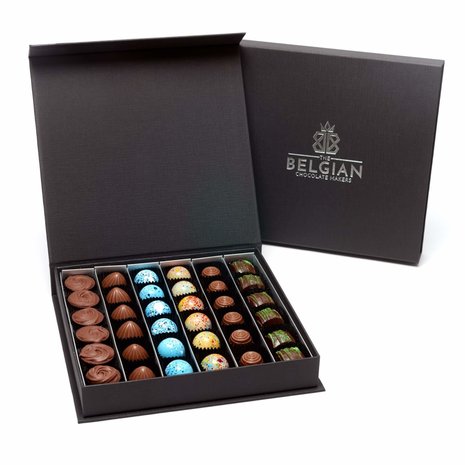 At the origin of the taste, there is the bean, and all the work that lets explode all its flavors. From roasting to conching, here is the birth of aromas. We partner with
Silva Cacao
to explore and propose to our clients the finest and original beans from all over the world. From the
Big Monkeys Valley
in Congo to the
Tsachilas
indian villages in Ecuador, we are selecting for you some particular and rares cocoa beans.
A discovery of nuances and colors in the heart of plantations.
The roasting is made by François Deremiens at his factory located in Jamoigne (Belgium). The chocolate drops are then delivered to our store and, at that stage, my work starts! Transforming the callets into pralines, truffles, figurines, bars... My job is wonderful!

No tricks, no lies, no hidden secrets! We tell you really everything...
We guarantee our
chocolates
to be
100% handmade in Belgium
using the finest cocoa beans.

Do you have a question ?
Feel free to ask us about our chocolates.
Specifications
Article number

LUXBOX-36 PRALINES

EAN

5407008474508

Type of chocolate

Sugar, cocoa mass, cocoa butter, milk powder, butter, cream, rice crispies, pistachio, almond, hazelnuts, mango, glucose syrup, fat vegetable: palm, sunflower, rapeseed, sunflower lecithin, vanilla bourbon.

Colorants

E330, E440A, E160A, E100, E170, E129, E133, E104

Chocolate maker

Elisabetta Passafaro

No alcohol inside

icon-yes

Net weight

540 Grs / 19.04 Oz

Dimension

22 cm (length) x 22 cm (width)

Suitable for vegans

icon-no

Allergens

May contain milk, dried fruits, eggs or soy.

Gluten free

Yes

Safe shipping

icon-yes

Storage conditions

Optimal storage temperature: 12 ° C - 18 ° C. Keep away from light. Keep the product in a clean, dry place (max humidity 70%) and odorless.