Cacao beans with an identity!

Most of our chocolates are handmade using cacao beans from
Philippines
or
Congo
. But we also use other "pure origin" cacao beans to produce some our chocolate bars. Our "pure origin" chocolates are very high quality chocolates made with selected beans from
strictly controlled origins
. At The Belgian Chocolate Makers, we have chosen these different cocoa beans with our importer,
Silva Cacao
, to produce eight chocolate bars with a completely different taste, but all with 75% of cacao inside.
By producing these eight different chocolate bars with all 75% of cacao inside, our clients discover that the percent of cacao is not the only essential key when you speak about chocolate. There are various aspects - especially the origin and the fermentation of the beans - that you need to take into account when you produce belgian chocolate, not just the cocoa percent.
Our pure origin chocolates: all 75% cacao!
Tanzania
Cacao 75% from Udzungwa
Centrally fermented "Trinitario" beans. Round profile with some acidity (some red fruit notes and surprising floral notes of violet and red fruit) balanced by a dry, nutty vegetal note. These beans are produced by more than 700 farmers who generally own less than 2 hectares of land. Thanks to the crucial improvement of post-harvest techniques, these families can now benefit from higher prices for quality and organic certification. More than 4,000 farmers are currently being trained in good agricultural practices to help them improve the quality of their cocoa.
St Vincent and the Grenadines
Cacao 75% from Kalinago
Centrally fermented "Trinitario" beans. Bright citrus acidity with notes of passion fruit and floral honey, followed by tones of bread, cashew nuts, finishing with a light touch of saffron. When cocoa production declined (bananas became the main agricultural export in the 1970s), a committed Vincentian couple took over a foreign investment in cocoa and founded the
St Vincent Cocoa Company
. About 100 small local farmers supply their beans grown on farms of less than 2 hectares. Cocoa is grown alongside short-cycle crops such as bananas, ginger and other local roots.
Madagascar
Cacao 75% from Mava Ottange
Mainly from the "Trinitario" varieties, this cocoa has a complex aromatic profile with a soft acidity, mixed with an elegant bouquet of red fruits, honey, roasted notes of nuts and coffee. The notes of light tobacco and the fresh mint finish give it the title of "cocoa of excellence", placing it among the fifty best cocoas in the world.
Two Malagasy families bought the dilapidated government-owned Mava plantation in 2015 with the aim of producing fine-flavoured cocoa, with the goal of making the best chocolate ever from these home-grown beans. Getting a job at Mava Ottange is highly desirable as workers earn a good salary, have transport facilities, health insurance and many other benefits in kind. This sustainable plantation is actively involved in the reforestation of the island, which has lost 40% of its forests in the last 60 years.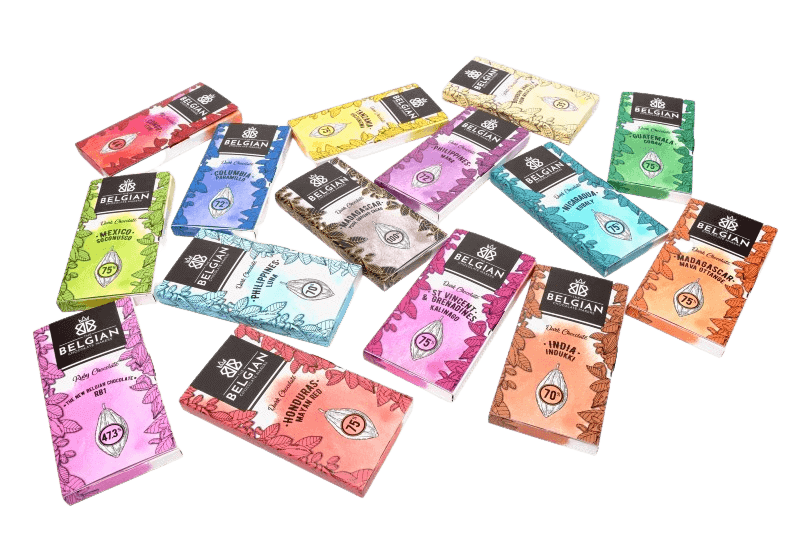 Guatemala
Cacao 75% from Coban
Criollo and Trinitario varieties, central fermentation. Soft and sweet profile, with medium acidity, offering notes of toasted hazelnut, caramel, melon, yellow fruits and critical notes of grapefruit. Finca Pasa Crocodillo is a corridor of cocoa forest between the Laguna Lachua National Park and a neighbouring forest area. It used to be a pasture. A natural carbon reserve was created after 4 years of work. Wild animals, such as jaguars, have since reappeared there. The farm employs local workers and gives them access to social security.
India
Cacao 70% from Idukki
Trinitario and Forastero, especially Mankuva. Central fermentation. Pleasant, smooth and creamy texture, with fresh tones of green apple, followed by an interesting development of spicy flavours of sea salt, cardamom, black pepper and even white wine. The tasting ends with pleasant notes of nuts and black grapes.
To ensure the highest quality beans, the cocoa pods are only broken on the day of collection. In the southwestern Indian state of Kerala, a Belgian-Italian couple founded
GoGround
to support farmers who grow high-quality cocoa. They visit them every week and buy all the beans available. The farmers receive the highest prices for the highest quality beans. Idukki's cocoa is grown in agroforestry, surrounded by, for example, black pepper, nutmeg, coconut, passion fruit and bananas. This system acts as a natural buffer zone and thus protects the surrounding forests.
Honduras
Cacao 75% from Mayan Red
A central fermentation
Mayan Red
hybrid. Its profile is complex and smooth. Low acidity, soft, fruity, with hints of berries and black grapes.
Xoco
operates its own farm and fermentation centre, and buys fresh beans from small farmers in northern and central Honduras. The
Mayan Red
variety is known for its distinctive flavour profile.
Mexico
Cacao 75% from Soconusco
Inherited from "Criollo" and "Trinitario". Central fermentation. It is a cocoa characterised by balanced acidity, nutty flavours and hints of dried fruit, including prune and notes of pepper, cinnamon, nutmeg, and cardamom. The indigenous producers in the Soconusco region have been growing cocoa for centuries, giving them exceptional agricultural skills. The Soconusco region, located in the southernmost part of Mexico, is a narrow strip of land between the Pacific Ocean and the "Sierra Madre de Chiapas" mountains, known for their famous Tacana volcano. The beans come from the "Chamolapita" cooperative, supplied by more than 60 indigenous families for whom cocoa is an indispensable source of income.
The beans come from a sustainable agroforestry system in which cocoa trees grow under the canopy, in association with mandarins, oranges, coffee and other crops. This high quality cocoa is also known as "royal cocoa". It was consumed by the Aztec kings and was particularly appreciated by the Spanish royal family, who received it as tribute for more than 300 years after the Spanish conquest.
Nicaragua
Cacao 75% from Kubaly
Trinitario with central fermentation. Pleasantly sweet chocolate profile with creamy, woody notes and hints of raisins, almonds and fresh grapes. In a region with a humid tropical climate perfectly suited to cocoa production, 25 small cocoa farmers along the Rio Kubali sell their high quality beans to
Cacaonica
, a farmers' organisation with 280 active members from 40 different communities.
Cacaonica
's objective is to train in cultivation and post-harvest protocols.