Chocolate workshops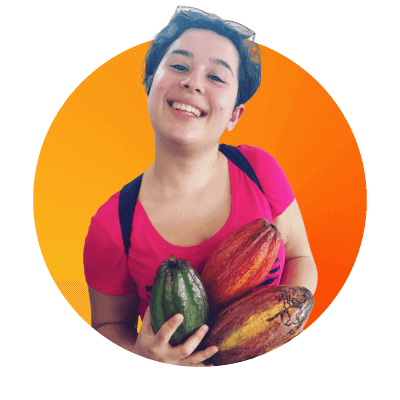 Belgian chocolate making class and workshop
Meet Elisabetta, our chocolate maker, discover the wonders of Belgian chocolate and learn how to make these tasty Belgian chocolates with the youngest chocolate maker certified by
Belgian Government
. Patricia, our other certified chocolate maker, is also helping Elisabetta during very busy days especially during the week-ends. Her quirky sense of humor is particularly appreciated by the participants!
Our stores and workshops are located in the historical heart of Brussels, between Sablon and Place Royale.
Enjoy an approx. 1.5 hour workshop with the guidance of our chocolate makers and be prepared to make your own amazing handmade chocolates and to share good vibes with us!
There is currently a very high demand for our chocolate workshops. These last weeks we have welcomed an average of 700 participants every week! We sell the tickets for our chocolate workshops from many apps like
GetYourGuide
,
TripAdvisor
,
Viator
,
AirBnb Experiences
and
Visit Brussels
but it is always better to book directly from us to enjoy more availabilities and options, to better help financially our farmers and to be able to opt-in for our
upgrade of refund policy
.
We don't look at ratings until somebody tells us...
Many of our participants book their tickets using the major travel applications. Unfortunately, when they use these applications they choose to give 30% of the price of the ticket to the big international companies like TripAdvisor or Airbnb rather than to help our farmers. This is the main reason why it is always better to book directly from our website.
Nevertheless, the good thing is that these several applications and websites let their users rating their experience with us.
Apparently, we are doing good! Our ratings seem to confirm that our visitors really enjoy our chocolate workshops!
More than 710 reviews on GetYourGuide and a general rating of 4.6 / 5 stars !
More than 160 reviews on Viator and a rating of 4.5 / 5 stars. We even received the badge of Excellence !
More than 370 reviews on AirBnb Experiences and an overall rating of 4.73 / 5 !

Where to meet?
The meeting point is always our booking desk located Place de la Justice 5.
You are required to queue in front of our booking desk a minimum of 10mns before the starting time. Toilets and amenities are available at our booking desk.
From our booking desk, first, we will check your tickets. We will then provide you with a welcome pack and a wristband that will allow you then to access the activity. You will be told at that moment which location you need to go. A member of our staff will bring you by walking to the allocated workshop. If it is raining then we will provide you with an umbrella if you need.
We are now proposing our daily chocolate workshops from both our stores: the main one in
Sablon
and the second one in
Place Royale
. Both stores are very close to each other (650m), less than
10mns by walking
. Depending on the number of participants, and to avoid a crowded activity, we frequently divide the group within these two places.
Why choosing us?
Our staff are genuine chocolate makers. We are not a museum for tourists or an opportunistic blogger pretending to be a chocolatier.
We are a proud partner of the hospitality program Les Clefs d'Or, a sign of excellence given to our visitors and clients.
In our stores, you can discover everything our chocolate makers handcraft for our clients. You can enjoy their creativity and know how.
We are the only certified artisan chocolate maker in the city of Brussels !
You will work with chocolate made from origin cacao only. We do not use industrial chocolate !
We guarantee 100% traceable supply chain for the cacao you will use and taste.
The chocolate you will use does not involve deforestation or child labor and provide a good level of revenue to the farmers.
We are not part of an industrial group but a true artisan chocolate maker.
Convenient mobile ticketing.
Use your mobile phone, no need to print your voucher!
Duration -/+ 1.5 hour.
Click "book your workshop now" to see starting times and the agenda.
The workshop starts every day at 11AM, 2PM and 5PM, Monday to Sunday.
Additional private workshops can be booked on special request.
Instant confirmation of your booking.
You can book up to 1 hour before the start of the workshop (depending availability).
Check-in made at our booking desk then the participants are led by walking to the workshops.
Guests receive free leaflets during the workshop.
You can download the electronic pdf version from here.
The activity is organized in English only. We speak French and Italian also on request.
Aprons are not provided but participants can buy them during the check-in or the online booking as an option.
We sell aprons with our logo embroided for the price of 12 euros.
All participants receive a pair of gloves on request and a hairnet to prevent them from spreading particulate contamination during the workshop.
We propose standard and VIP tickets. With the VIP package you receive priority access to the workshop, a glass of Champagne and an embroidered apron.
Premium quality chocolate made produced using selected cacao beans from Haiti (Grand Anse).
Organic cacao from small farmers. 100% traceable origin.
Options available for standard ticket: priority access, sparkling welcome and apron.
Our workshops take place in two different locations in Brussels: Sablon and Place Royale.
We are a proud partner of the hospitality program Les Clefs d'Or, a sign of excellence given to our visitors and clients.
Check our terms and conditions and cancellation policy.
Highlights
Discover the secrets of our origin cacao and learn why Belgium is famous for chocolate !
Create your own chocolates with the help of our chocolate makers (Elisabetta or Patricia) and their assistants then bring everything at home !
Work with and taste pure origin chocolate, we do not use industrial chocolate !
Help our farmers to build a better future for our planet and be involved into cacao sustainability.
Take your creations home to share and enjoy even more !
Share a vibrant moment with certified artisan chocolate makers and share their passion for cacao !
About COVID, what is the situation in Brussels?
Actually in Brussels, this is code
yellow
.
The wearing of the mask is no longer to participate at our workshops and classes.
The Covid Safe Ticket is no longer required to access our workshop area.

Brussels is the capitale of Belgian chocolate and we are the only
certified handmade chocolate maker
for the city of Brussels. You can check easily that information on the
official website
. Making our chocolate using our hands and in front of our clients really makes a difference! You can read more about what Brussels has to offer around Belgian chocolate using the
Visit.Brussels
 website. Discover the
activities
around chocolate and also the
best places
where to buy chocolate according
Visit.Brussels
.
Since July 2022, we also sell our workshops from the
Visit.Brussels
desk located at the Brussels Info Place (BIP), rue Royale 2-4, 1000 Brussels. It is opened Monday to Saturday from 12.30 pm to 5.30 pm. Another alternative is to go to the other
Visit.Brussels
desk located in the City Hall at Grand' Place. It is opened every day from 9 am to 6 pm. Tickets can also be bought from the platform
Visit.Brussels
.
Let's make the magic starting!
We are not a so called chocolate museum or a tourist place like the numerous stores located near Grand Place where they only sell fake handcrafted Belgian chocolates. We are a true Belgian chocolate maker and we are certified by Belgian government. With us you will really learn to make your chocolates with a true artisan! Let's share our passion and learn a lot of things about Belgian chocolate from our plantations to our store in Brussels!
During the workshop you will handcraft some truffles on your own, also some mendiants and a personalized chocolate bar using selected cacao coming from our organic plantations located in Haiti Grand Anse. Once known as the perl of the Antilles, Haiti was a great exporter of coffee, vanilla, cacao, sugar cane and essential oils. The 1994 trade embargo, war and insecurity reduced the agricultural industry. Our cooperative partners drives change thanks to the focus on quality cacao and farm diversification. Smallholder farmers in Grand Anse grow our cacao organically, and deliver their wet mass to the fermentation centre where a rigorous fermentation and drying is being done, resulting in a flavoursome cacao that you will be able to use during the workshop. Our farmers receive a premium for the quality they deliver. 33,9% of the price we receive from you for this experience is used to pay premiums to our farmers.
The experience begins with a warm welcome from your guides and a delicious cup of hot chocolate (or frozen chocolate during summer time). While you drink, listen to a short but fascinating introduction into the world of Belgian chocolate and learn a lot about the origins of our cacao.
After the intro, the real fun begins with a demonstration of chocolate tempering on a marble table. It's then time to have a go yourself and make your own chocolate treats with the help of expert chocolatiers. Spend the hour making your very own personalized and tasty mendiants, truffles and chocolate bars.
Everything you make during the workshop will be wrapped up so that you can take it home.
You will bring with you everything you have done during the workshop so you will be able to share your chocolates with your family or friends. The chocolate workshop is the perfect moment as well to share and to discuss with our chocolate makers. They will explain you a lot of things about the cacao. You will be able to taste a cacao bean (super bitter!) and also the cacao liquor (the mass we use to make the chocolate).
The experience takes place in our both locations depending the day, the time and how busy are our workshops. Both our places are
very close to each other
(10mns by walking):
Discover the wonders of Belgian chocolate and learn how to make amazing chocolates at one of the very rare chocolate artisans in Brussels. Enjoy a 1,5 hour workshop with the guidance of a true chocolate maker and have a go at making amazing handmade chocolates yourself.
How to book?
Simply click below "book your workshop now". It will open the agenda of all available days for you to select your favorite moment to book. Once you have booked you will receive an immediate confirmation by email.
We cannot accept kids (6-12 years old) on their own participating in our chocolate workshops. We always request an adult supervision.
At least one adult booking is requested when a booking is made for one or more kids from 6 to 12 years old.

We do not accept kids less than 6 years old. Age verification can be requested at the entrance.
All bookings are final. No refund is possible. Nevertheless we propose to all our clients a cancellation insurance during the check-out.
When you opt in for the cancellation insurance, you can get reimbursed even if you miss the workshop because your train is late or if you are feeling sick on the day of the event using this
online form
.
Alternatively, you can also buy some gift cards (vouchers) online, directly from us, by clicking
here
.
Private and corporate events
We also organize private and corporate workshops every day.
If you're looking for an alternative idea to the usual corporate team building activity, a fun way to celebrate a special occasion or an interactive and educational experience for your team, colleagues, partners… We can deliver it!
Meet Elisabetta, our chocolate maker, discover the wonders of Belgian chocolate and learn how to make these tasty treats with one of the very few real chocolate makers based in Brussels. She knows how to motivate your people to work together, to develop their strengths, and to address any weaknesses. Our chocolate workshops encourage collaboration rather than competition. For us, the importance of team building is to encourage teamwork among employees, by building connections and bonds between co-workers. Our workshops also allow for an easier time to communicate among departments and teams.
Our corporate events are making your team even more special! That's simple. A love of chocolate is something that brings everyone together and what we don't know about chocolate, its origins, and its ability to unite an audience towards a common goal isn't worth knowing! Combining an extensive background in chocolate making, marketing, product development and management, we're passionate about using this "food from the gods" for events that are:
Exciting and inspiring
Engaging and interactive
Educational
Effective
Fun and tasty
If you're looking for an alternative idea to the usual corporate team building activity, a fun way to celebrate a special occasion or an interactive and educational experience for your team, colleagues, partners… We can deliver it!
Click
here
to download the pdf for private events.