Kids birthday workshops
Private kids birthday chocolate workshop
Our entertaining kids chocolate workshops are a really fun way to learn about chocolate for kids aged 5-12 years old and are ideal for any celebration such as birthdays, kids parties or school rewards. We are the only chocolatier in Brussels to offer full chocolate experiences in a true and real working chocolaterie for groups as small as 10 to 25. Unlike other experiences we use only our high quality ingredients including our pure origin cacao from Haiti during our classes and workshops. The kids will learn about how Belgian chocolate is (hand)made and where it comes from. They will have the opportunity to make and decorate some mendiants, some biscuits and some marshmallows with delicious Belgian chocolate. They will also make their own personalized chocolate bar! All topped of with an indulgent and delicious Belgian chocolate.
The basics to know...
All booking are definitive. No cancellation possible.
Our workshops is on high demand therefore no cancellation or report is acceptable.
Covid 19 precautions.
All our staff is fully Covid vaccinated.
Minimum billing: 10 participants.
Upfront full payment requested to confirm the booking.
Duration +/- 1,5 hour.
Check availability with our staff to confirm booking possibilities.
Email

[email protected]

to book a kids birthday party.
Slots currently available: Saturdays and Sundays from 11am to 12.30pm.
Available in English, French and Italian.
Pricing & booking process
The price is 50 euros incl. VAT per participant with a minimum of 10 participants.
An invoice is emailed to the parent who organize the event and payment by card or bank transfer is possible.
Full payment should be made at the booking step. Once payment is processed then the booking is automatically confirmed.
All bookings are final. No refund can be claimed once the booking has been confirmed.
Highlights
Kids will discover the secrets of Belgian chocolate and learn why Belgium is famous for chocolate.
They will create their own chocolate treats with the help of our chocolate makers.
Participants will decorate the birthday cake themselves using delicious Belgian chocolate.
They will take their creations home to share and enjoy even more!
Let's make the kids celebrating!
We do birthday experiences for 10 to 25 kids at our chocolaterie, on Saturdays and Sundays from 11am to 12.30pm. The price is 50 euros (incl. VAT) per person with a minimum of 10 participants. This event is reserved to kids aged 5-12. An adult in charge of the event is required to stay with us during the event. The experience is aprox. 1,5 hours long and will only include your guests. We won't rush you so if the kids are slow it can be longer. If you have an end-time deadline please let us know and we can try and keep you to it but we hate rushing the kids.
We provide the birthday cake. During the workshop, the kids will decorate it with delicious Belgian chocolate and sweets. After the workshop they will have time (30mns) to enjoy a social moment all together, eat and enjoy the birthday cake. We provide fruit juices and water as well. It is time then to open the gifts all together and, at that time, kids are most of the time over excited!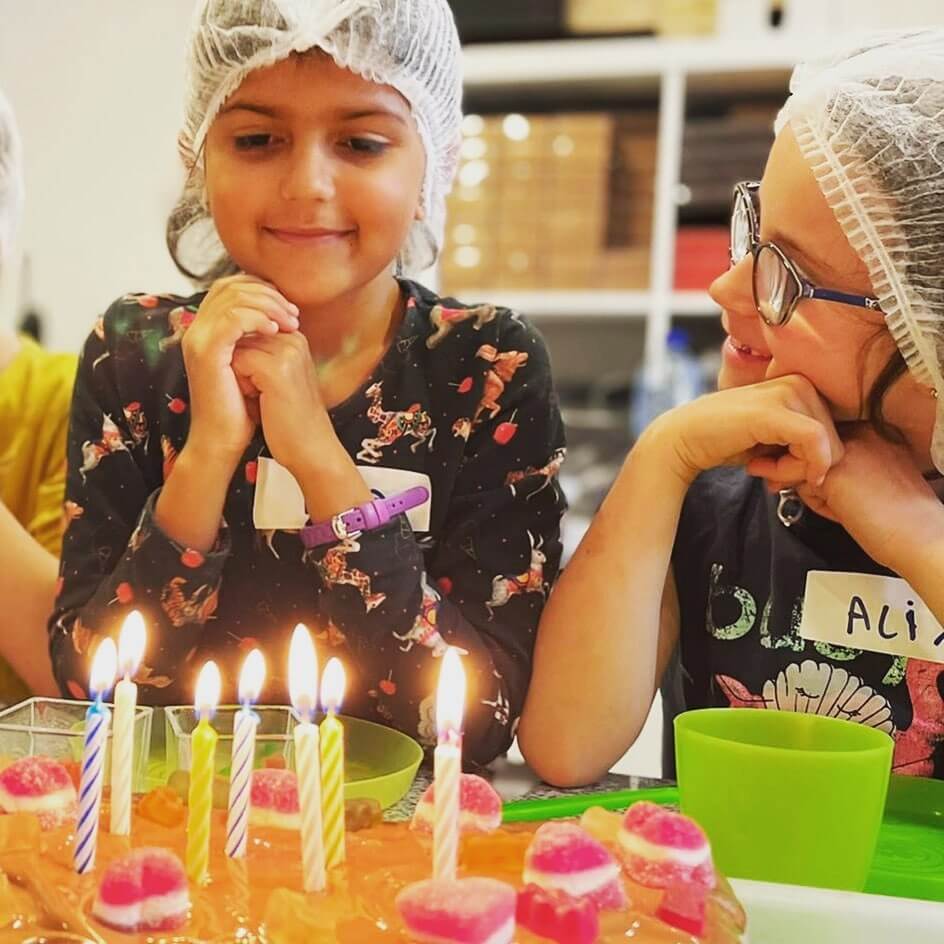 Booking a birthday chocolate workshop for your kid(s)
Please note a booking is not made until it has been confirmed by us by email (bookings cannot be made or confirmed by phone or instore) and a full payment has been made either by bank transfer or a
card payment
. The adult person in charge must sign our
AWRL
and declare allergens before arriving and paying. If images are taken of you during the event you can request to keep a copy of them. If images are taken of you they may be used for advertising or on social media by The Belgian Chocolate Makers SRL as stated in the AWRL. On the day of the event you may request no image be taken of you. This also applies to children. We cannot cater for any allergens at our events and our events are not recommended for people with allergens. However, if you have specific food based requests we will make every effort to avoid particular ingredients, if we can and you let us know before payment (surcharges may apply). Children's workshops
will require a minimum of one supervising adult in the room at all times
. We provide entertainment services only, we are unable to provide supervising services, it is your responsibility to supervise the children during the party.
No parents are accepted during the workshop with the exception of the supervising adult in charge of the event.
Our place is a true and real working chocolaterie and activity takes place in the public areas of the shop.
Staff may be making chocolates and serving in the shop at the time of your event.