NXT dairy free chocolate
NXT generation of our chocolates 100% vegan, plant-based, lactose-free and dairy-free
What is NXT dairy-free chocolate?
They're made by
Barry Callebaut
for the next generation of chocolate lovers who want to do good, feel good and indulge better. And they're made for artisans like us to bang the taste buds with better ingredients for our planet and our wellbeing.
NXT dairy-free is chocolate indulgence of the next generation. These dark and milk chocolates are made from 100% plant-based ingredients without any trace of milk or dairy. They are bringing you all the indulgence and creaminess of traditional chocolates. They're better for the planet and better for your customers who want to enjoy without any animal ingredients.
Why NXT dairy-free?
Meet gen Z: the new generation of 18-25 years old. They're 2 billion strong on this planet! They want to do good, feel good and change the world by making different choices. Also in the foods they eat. And plant-based choices combines with winning taste are what they're after.
55% of the 18-25 years-old consumers eat vegan at least weekly.
14% of millennials is flexitarian: preferring plant-based foods over foods from animal source.
Great taste is their N°1 reason that drives their choice in plant-based foods.
Consumers expect delicious taste and the gold standard: they want their vegan and plant-based delights to taste as rich, creamy and indulgent as the traditional ones. NXT dairy-free chocolates are the first chocolates in the world to respond to all those needs: with indulgence that makes no compromise with the guarantee of 100% plant-based ingredients and no traces of dairy.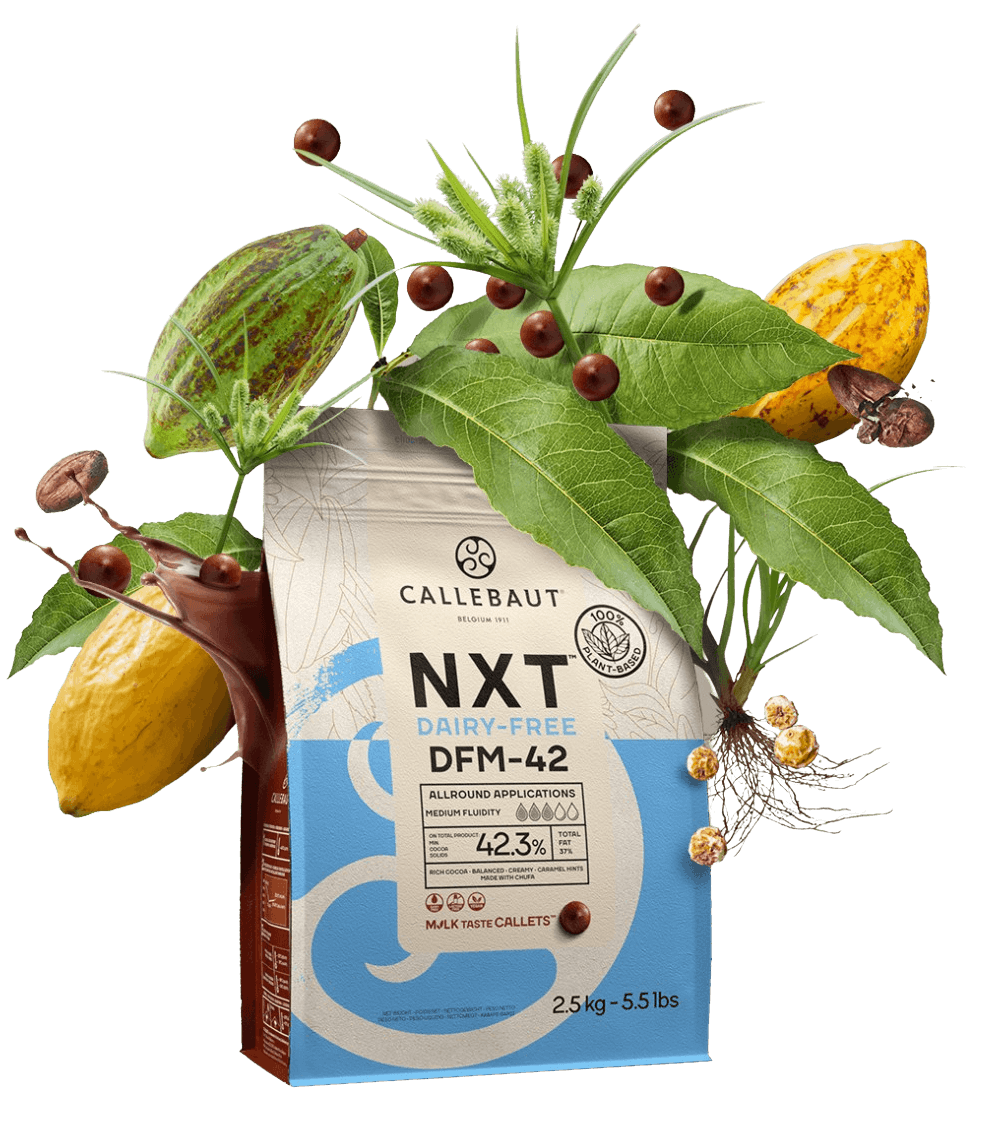 Chocolate desserts and pastries are the N°1 preference to many. Making some plant-based, vegan, lactose-free or dairy-free chocolates is simply a must to respond to what our clients are asking for.
Why is dairy-free so unique?
Dairy-free is the highest and strictest standard in the market. Where vegan, vegan-certified or plant-based chocolates are allowed to still have traces of dairy, NXT dairy-free chocolates guarantee no detectable traces of dairy and milk protein.
To make this dairy-free claim,
Barry Callebaut
is producing the NXT dairy-free chocolates in a segregated production environment where no dairy ingredients enter. What's more, they don't even allow nuts, eggs or other allergen-containing ingredients to enter (except soy).
Because of these high standards, NXT dairy-free dark and m_lk are not only delicious for vegan chocolates. They're also suited for dairy allergies and intolerances.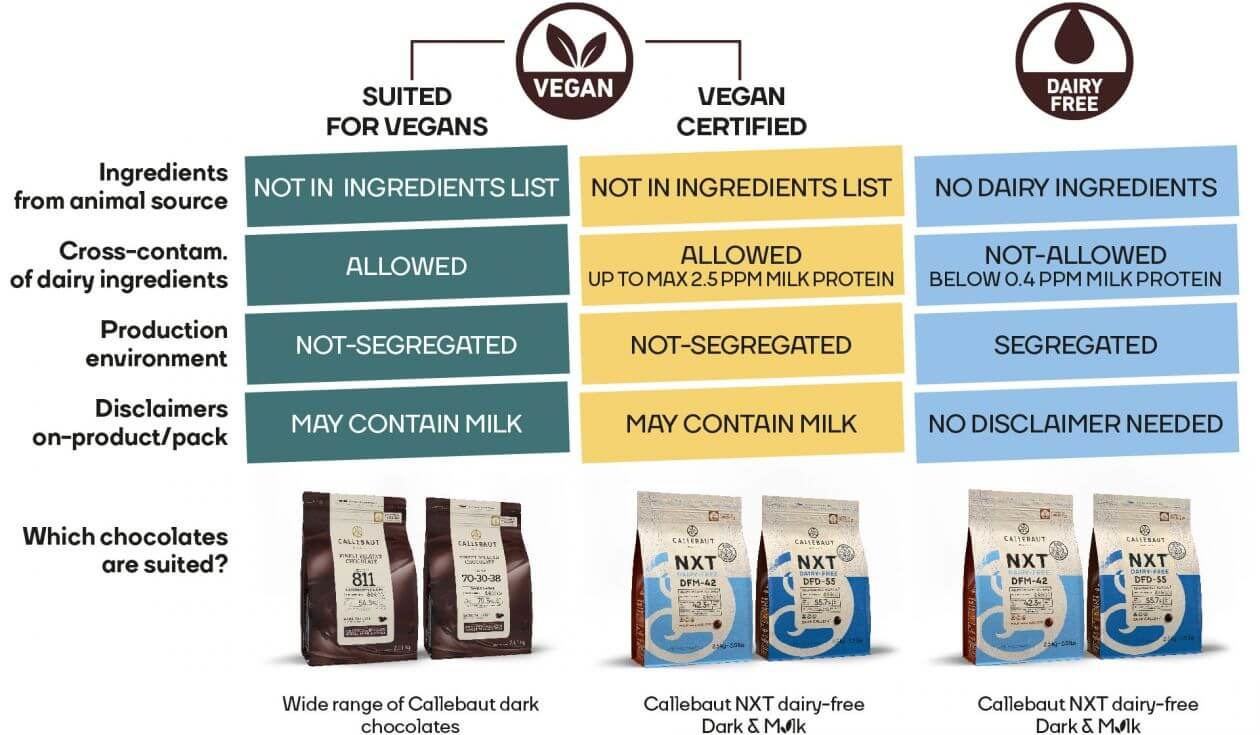 Chufa, a perfect alternative to milk in NXT dairy-free m_lk chocolate
Chufa is also commonly called tigernut. Unlike its name suggests, tigernut isn't a nut, but actually a tuber-like fruit growing at the roots of the plant. To produce the NXT diary-free M_lk chocolate,
Barry Callebaut
use the tubers of the chufa plant ground into a fine powder.
Replicates the creaminess of a milk chocolate
A sustainable ingredient: renewable and 100% plant-based
Super food allowed in chocolate (High fiber, High Vitamin E)
100% allergen free
Optimized special grade for chocolate applications
Unique application properties (patent application pending)
Allowed for chocolate denomination (in EU / USA pending)
Tigernuts are sowed in April, to be harvested around November. The tigernut tubers (roots) are pulled out from the soil, while the leaves are discarded. The tubers are then washed, dried, sterilised, and finally ground into a unique very fine powder used in to produce the NXT dairy-free chocolate. Chufa has a naturally sweet taste and creamy mouthfeel, reminiscent of chestnut and almond. Tigernut is used in "Horchata de chufa", a milk-like plant-based drink enjoyed by millions of Spanish consumers since decades.
Happiness is German engineering, Italian cooking and Belgian chocolate!
Have fun with us!
Book your belgian chocolate workshop!
Meet Elisabetta and Patricia, our chocolate makers, discover the wonders of Belgian chocolate and learn how to make these tasty treats with one of the very few real chocolate makers based in Brussels. Enjoy an approx. 1 hour
chocolate workshop
with the guidance of our expert chocolatiers and have a go at making amazing handmade chocolates yourself.
Discover and taste our cacao beans, learn about the origins of our beans and make belgian chocolates with us!